Buckhead Smoke Shop in Fulton County, Georgia
Free Smoke has opened our 5th location, the Buckhead Vape and Smoke Shop in Atlanta, Georgia. Our Buckhead smoke shop has all the hottest deals on Hookahs, Smoking Accessories, and top-of-the-line Vapes. We've cultivated an amazing selection of the best for all your smoking needs in a casual, friendly environment that feels like a go-to neighborhood smoke shop. Come visit the Free Smoke Vape Shop in the Buckhead district of Atlanta for high-quality products at the best prices you can find near you today.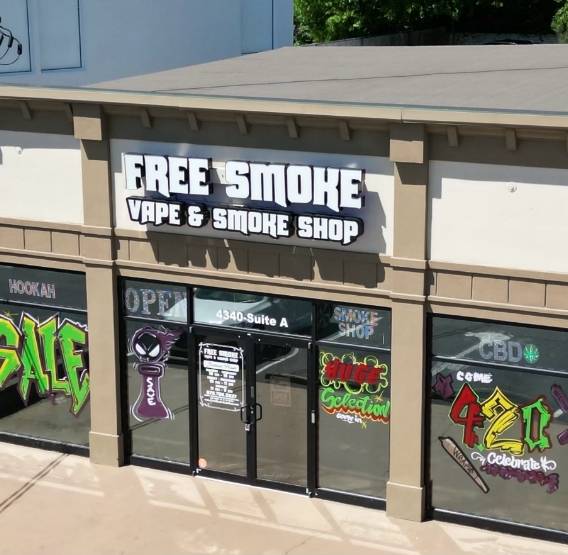 Free Smoke Vape Shop Buckhead Location in Atlanta
ADDRESS
4340 Roswell Rd Atlanta, GA 30342
CONTACT
(678) 705-2627
STORE HOURS
Mon-Thurs: 10AM-10PM
Fri-Sat: 10AM-11PM
Sun: 11AM-9PM
A Quality Vape Shop Buckhead Locals Can Visit
We believe in providing a welcoming and friendly environment for our customers. Our Buckhead smoke shop is designed to make you feel right at home while you browse our extensive collection. Our knowledgeable staff is always on hand to assist you in finding the perfect smoking accessories, ensuring you are satisfied with your purchase.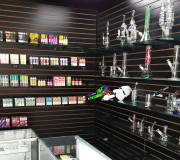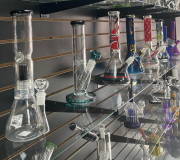 Our commitment to quality products, competitive prices, and exceptional customer service ensures you'll have a fantastic experience every time you visit. At Free Smoke, we guarantee that you'll leave our Buckhead smoke and vape shop with exactly what you need.
"I love this smoke shop. Management gave me great alternatives to nicotine. I've been cigarette free because of Free Smoke for almost 6 months."
"Absolutely love! Was extremely kind and very clean. Had things we haven't seen before and we've been to a lot of smoke shops and this is our favorite! Will be returning VERY soon!"
"The store is very clean, they take social distancing measures to protect their customers and employees, and it has a really cool atmosphere. I'm officially a regular customer!"
Frequently Asked Questions About Free Smoke Vape Shop Buckhead, Atlanta
What distinguishes a vape shop in Buckhead from a smoke shop?
A vape shop in Buckhead specializes in electronic cigarette products and vaping accessories. These shops typically offer a variety of e-liquids, vape mods, tanks, coils, and other vaping equipment.
What are the advantages of visiting a smoke shop in Buckhead instead of purchasing smoking products online?
Visiting a smoke shop in Buckhead allows you to see and feel the products in person, ask questions, and receive recommendations from knowledgeable staff. It also provides the opportunity to support local businesses and potentially discover unique or specialty items.
Do any smoke shops or vape shops in Buckhead offer discounts or promotions?
Yes, some smoke shops and vape shops in Buckhead may offer customers discounts, promotions, or loyalty programs. When visiting these shops, it's a good idea to inquire about any ongoing deals or special offers.
What should I consider when choosing a Buckhead smoke shop or vape shop for my smoking and vaping needs?
When choosing a Buckhead smoke or vape shop, consider product selection, pricing, customer reviews, staff knowledge, and proximity to your location. Visiting the shop and asking questions can help you make an informed decision.
Are there any regulations or age restrictions for purchasing smoking or vaping products in Buckhead?
There are regulations and age restrictions for purchasing smoking and vaping products in Buckhead, which is located in Atlanta, Georgia. You must be at least 18 years old to purchase these products. It's essential to adhere to local and state laws regarding age restrictions and product usage.
Buckhead (Atlanta, Georgia) Vape & Smoke Shop Has Everything You Need
Our Buckhead smoke shop is open for business in the iconic residential district of Atlanta for all residents to come and explore. We're stocked with an excellent selection of accessories and equipment to handle all your vaping and smoking needs, from hookah pipes and vaporizers to hemp grinders, rolling trays, pipes, and everything in between. We specialize in providing all sorts of nicotine and nicotine-free products, ensuring you always find the gear best suited for you.
Our smoke and vape shop is located on Roswell Rd., across from the Chevron gas station and next to the Sherwin Williams. The next time you stop by Buckhead, be sure to check out our newest location for the best deals on smoking accessories, hookahs, disposable vapes, and more. Be sure to check out our Atlanta and Florida locations if you're closer to the southern region of the USA.